Canoe Kits
Full Length Strips - Precut Forms - Easy to Assemble
Our Basic Boat Kits
Many people who purchase a basic kit are already handy in working with wood, have the necessary tools, and feel comfortable reading plans, following instructions and the cost may also be important to them.
•3/4" Plywood pre -cut forms
• 70 Full-length Clear VG western red cedar strips
• 12 - yards 6 ounce Fiberglass Cloth
• Instruction Book
• Plans
• Power Point Building CD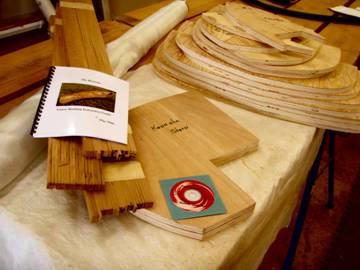 Complete Canoe Kit
The folks that purchase our full kits range from the inexperience; to those who have built many boats, many are repeat customers. Some are my former students who wanted another boat or a different model other then the one they built in my shop. Many do not have the power tools to construct the parts that the basic kit does not include. Price doesn't seem to be as important to full kit customers who want "no-hassles" in assembly, want all the parts in one well marked box, so they can go right to work without running to the hardware store for missing parts. Unlike other kit suppliers, we construct each strongback, align & number every part. Plus we supple the canoe saddle needed for working on - sanding, glassing and gunnel, seats, deck plates and varnishing the inside of your canoe. We then dissemble and carefully package everything part for shipment to you. You will receive all the necessary parts needed to put your boat in the water - including everything from masking tape for the forms, to varnish and brushes.
Compare our list of supplies and parts with other canoe kit makers and you will quickly see they value we offer. You also will have me as an adviser to answer all questions you may have when building your dreamboat. I will not leave you hanging when you most need the help, just email me, take a photo of where you need the help or send me you phone number and I will call you and talk you though your problem. All kits come with the best Western Red Cedar I can fine – all knot free and VG for the strips. All kits come standard with White Ash for the deck plates, seats, thwarts and gunnels. Extra cost for other types of woods such as Peruvian Black Walnut, African Strip Mahogany, Birch or even Birds Eye Maple. There is another extra charge for cutting the accent strip blocks, $100 and another $100 for assembling the accent strip. And finally, if you decide too laminate different woods types together for the seat, seat blocks and the thwarts. When ordering a full kit I will ask you for you home phone and I will call you and we will discuss the pro and cons of each boat and what color of boat you want, if a accent strip is desired, then we talk about style and what colors/types of wood for the strip.
In the last few years we all are aware of the cost of fuel for your car and the trucking companies. Instead of building the full strongback and shipping it to you I only ship the strongback deck plate. The strongback deck plate displays all the needed information such as: the centerline, station position. And end forms. So all you need to do is to build your own strongback and legs with two by fours and add the kits deck plate. If you decide you want to save a little money by not having the strongback included in the kit I will reduce the price of the full kit by $100. Just let me know which way you want to go!
I have listed below the parts you will receive in the full kit. I only use full length, knot free, VG Western Red Cedar for the hull, White Ash for the gunnels, scupper blocks, seats and deck plates. I suggest if you decide to order a kit that you call me 509-637-4393 before you order. Many of my costumers decide to use African Ribbon Strip Mahjongg for the, seats etc. All these parts listed below are included in the full kit price. There are some extra charges for some options. These options are
1------Small blocks of wood cut for the accent strip (210 blocks) ---$100
2.-----Capped outer gunnels ---- $50.00
3.----Extra trim on seats----$25.00
4.----1/2" half round brass strip for keel with screws for attaching----$125.00
Comlete Kit includes everything in Basic Kit
Comlete canoe kit part list
70 - ¼" x ¾" x 17' clear red cedar strips
4 – ½" x ¾" x 9' Mahogany outer gunnels
4 – 3/8"x ¾" x 8' Mahogany inside Gunnels
2 – 1¼"x 14" Mahogany deck plates
4 – ½" x ¾" x 20" Cedar inner deck blocks
38+ –3/8" x ¾" x 4" scupper blocks
2 – ¾" x 2" hardwood dowels
8 –1/8" x 1 ½" x 36" Cedar ends stem pieces
2 – 1"x 8" x 11" laminated between seats
4 – ¼"x 30' nylon seat lacing
2 – ¼" x 3" tapered doll rods
1 – 2" x 12" wood sanding board rods
1 – 36" roll of 80 grit sandpaper
2 – 1½" x ¾" x 12.5" - 20 degrees seat bocks
2 – 1½" x ¾" x 12.5" 22 degrees seat bocks
1 – 1" x 4" x 6' Ash bow & stern remover
2 – 1½" x 2½" x 34" laminated thwarts
8 – 10/24 x 3" brass thwarts bolts
8 – 10/24 x ¼" brass washers
8 – 10/24 x brass nuts
8 – 10/24 x brass acorn nuts
12 – brass beveled brass washers
12 - #8 x 1½ " brass screws for deck plates
130+ - 3/8" x 3/8" x 4' "Y" accent blocks
130 - 3/8" x 3/8"x4" "M" accent blocks
5 – 3/8" x 3/8" x 15' "Y" decorative strip
1 – 2" x 4" x 172.5" pre-built strongback
2 – 2" x 4" x 32" strongback legs
2 – 2" x 4" strongback leg (support) braces
2 – Sets of canoe saddles
2 – 5" x 3' carpet
13 – Kenosha Canoe ¾" plywood forms
1 – Kenosha 3/4" plywood tapered bow
1 – Kenosha 3/4" plywood tapered stern
4 – cardboard shims
2 – ½" x 1½"" x 3' alignment sticks
2 – ¾" x 3" plywood alignment blocks
20' - nylon string
26 – ¼" x 2½" bolts
2 – ¼" x 1 ½"" bolts - bow/stern
2 – ¼" x 1½" bolts – bow/stern
30 – ¼" nuts
60 – ¼" x 1½" fender washers
13 – yards 60" 6 Oz fiberglass cloth
1 - gallon Sliver Tip Resin epoxy
2 - quarts Slivery Tip Resin epoxy
3 - quarts Sliver Tip hardener epoxy
1 – 5 minute syringe epoxy kit
1 – 6 pack syringe tips
1 – small bottle of super glue
2 – quarts Tight bond II wood glue
1 – small jar of Cab-O-Sill
25 – 16 ounce paper measuring cups
10 – 3 ounce paper measuring cups
12 – 1/8" x 1½" x 10" foam roller covers
1 – 6" wire paint roller
1 – six inch rubber squeegee
1 - quarts of Z-Spar's Flagship varnish
1 - small bottle Z-Spar varnish thinner
6 – paint strainers for varnish
1 – pack of tack cloth
5 – 1" foam brushes
5 – 2" foam brushes
5 – 3" foam brushes
1 – roll 1½" masking tape
1 – roll 2" heavy grade masking tape
12 - pairs – of latex gloves
1- Kenosha Canoe Plan
1 – instruction book
1 – power point Kenosha building CD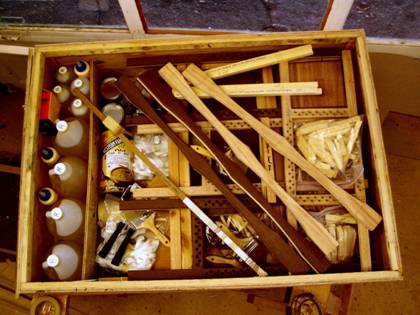 Two comlete kit parts ready for shipment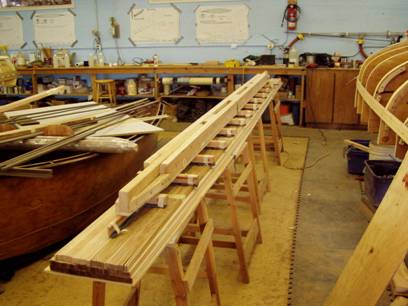 Two comlete kit Strips and Strongback ready for shipment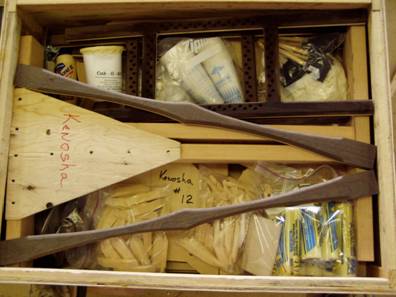 Comlete kit parts ready for shipment